Welcome to Amherst-Pelham Public School Nutrition Services
GOVERNOR BAKER SIGNS BREAKFAST AFTER THE BELL LEGISLATION INTO LAW!
https://riseandshinema.org/2020/08/04/governor-baker-signs-breakfast-after-the-bell-legislation-into-law/
" Expanding breakfast from before the bell to after the bell is a proven, simple, and effective strategy to boost breakfast participation, ensuring all students are fed and ready to learn every day. "
" Breakfast After the Bell will break down barriers to accessing food, which perpetuates the achievement gap, and help us move to a more equitable public education system, one in which all students get the nutrition they need to succeed. "
UPDATE on Free Meals for Children: We are thrilled to announce that we will continue serving FREE MEALS to ALL children ages 0-18 through August 28, 2020.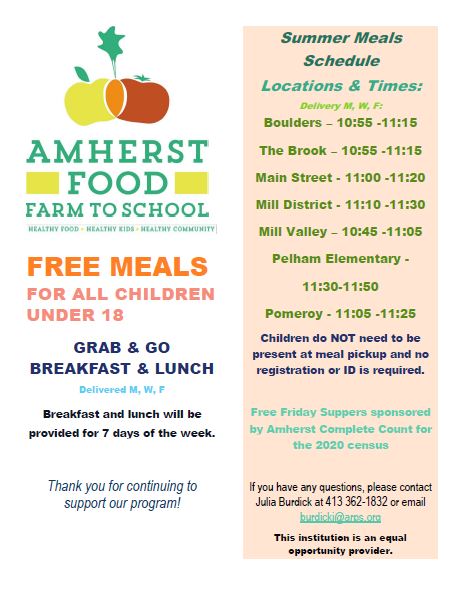 Our program will run the same as it has been since school closures in March. Below is the menu for August, subject to changes: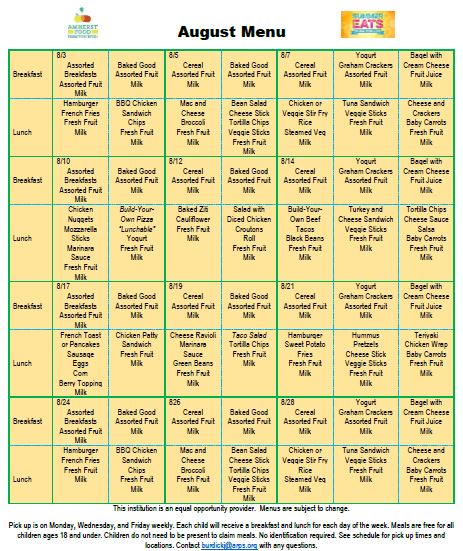 UMASS will continue their delivery program Monday- Friday at the 7 other sites in Amherst, the same as it has been since school closures in March.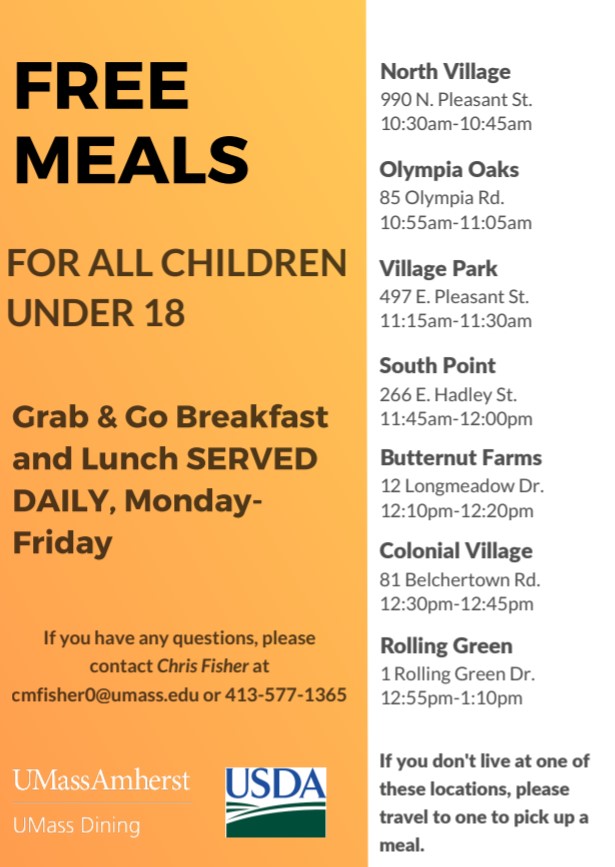 We know these times can be tough on everyone, which is why meals are available FOR FREE to ALL children ages 0-18.
Check out our Facebook and Instagram to stay up to date, discover new recipes, and get in touch!
https://www.facebook.com/AmherstFood/
https://www.instagram.com/arpsschoolnutrition/
We know that good nutrition and learning go hand in hand.

The School Nutrition department is made up of a team of food and nutrition professionals that are dedicated to students' health, well being and their ability to learn. We support learning by promoting healthy habits for lifelong nutrition and fitness practices.

Meals, foods and beverages sold or served at schools meet state and federal requirements which are based on the USDA Dietary Guidelines.

Our Promise
We promise to provide every student in our schools with access to healthy, local and flavorful meals to fuel their potential for achievement, growth, and overall well-being.
What's Cooking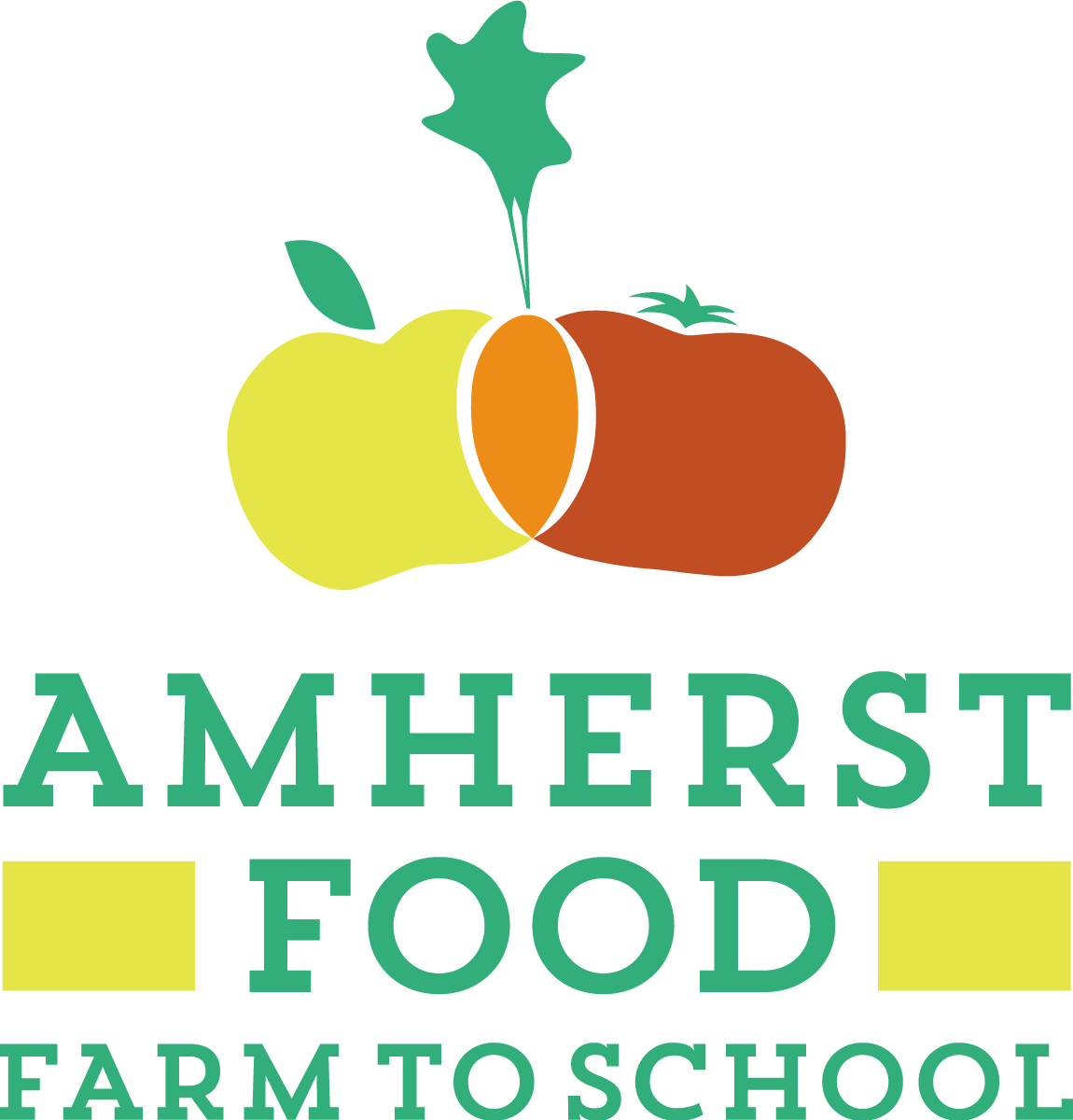 Farmer Leila has been busy all spring planting, watering, weeding, and now harvesting the produce from the Elementary School Gardens! The first School Garden Harvest contained radishes, bok choy/ tatsoi, chives, and mint.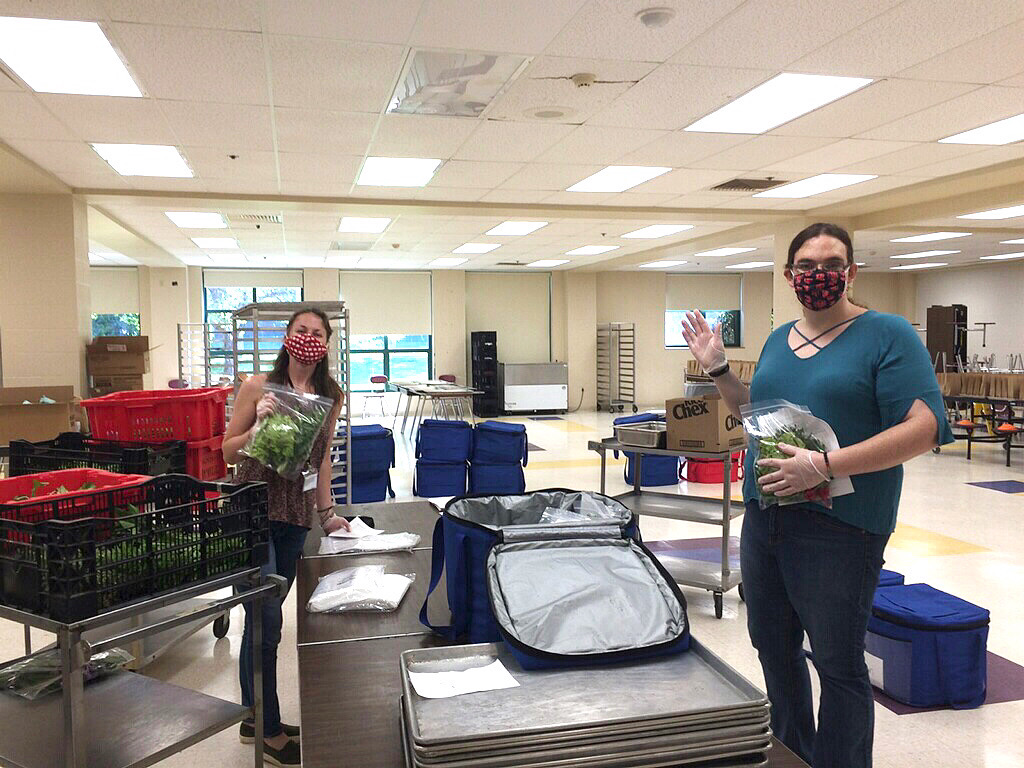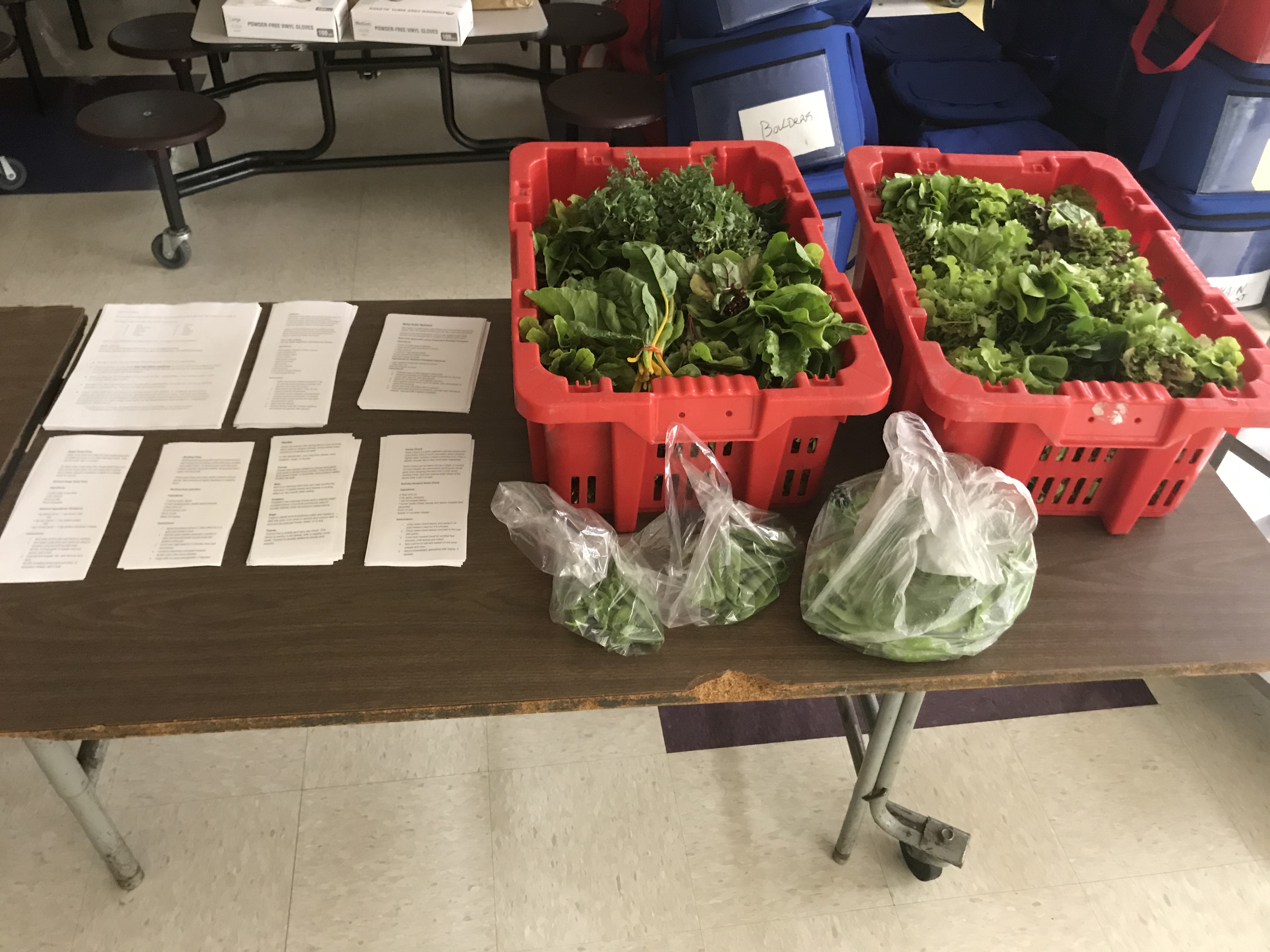 The Elementary School Garden Team has generously donated the produce from the three elementary schools' gardens to the School Nutrition Department. We have been using some of the produce in the Emergency Meals Program, which is providing free meals to children during the COVID-19 crisis. Some of the produce was also distributed to families CSA-style, as whole raw ingredients, so families can wash, chop, cook, and eat, the harvests together!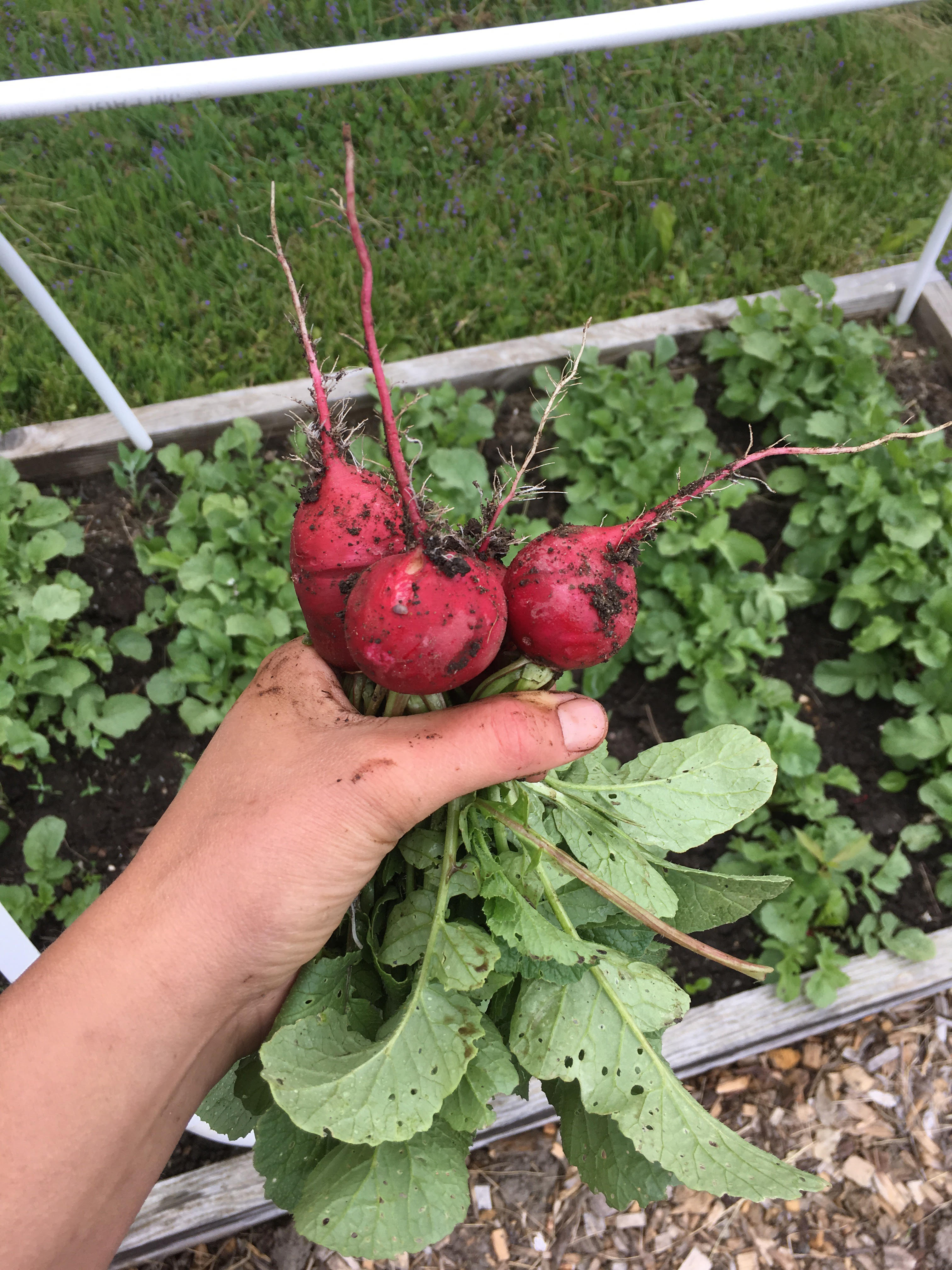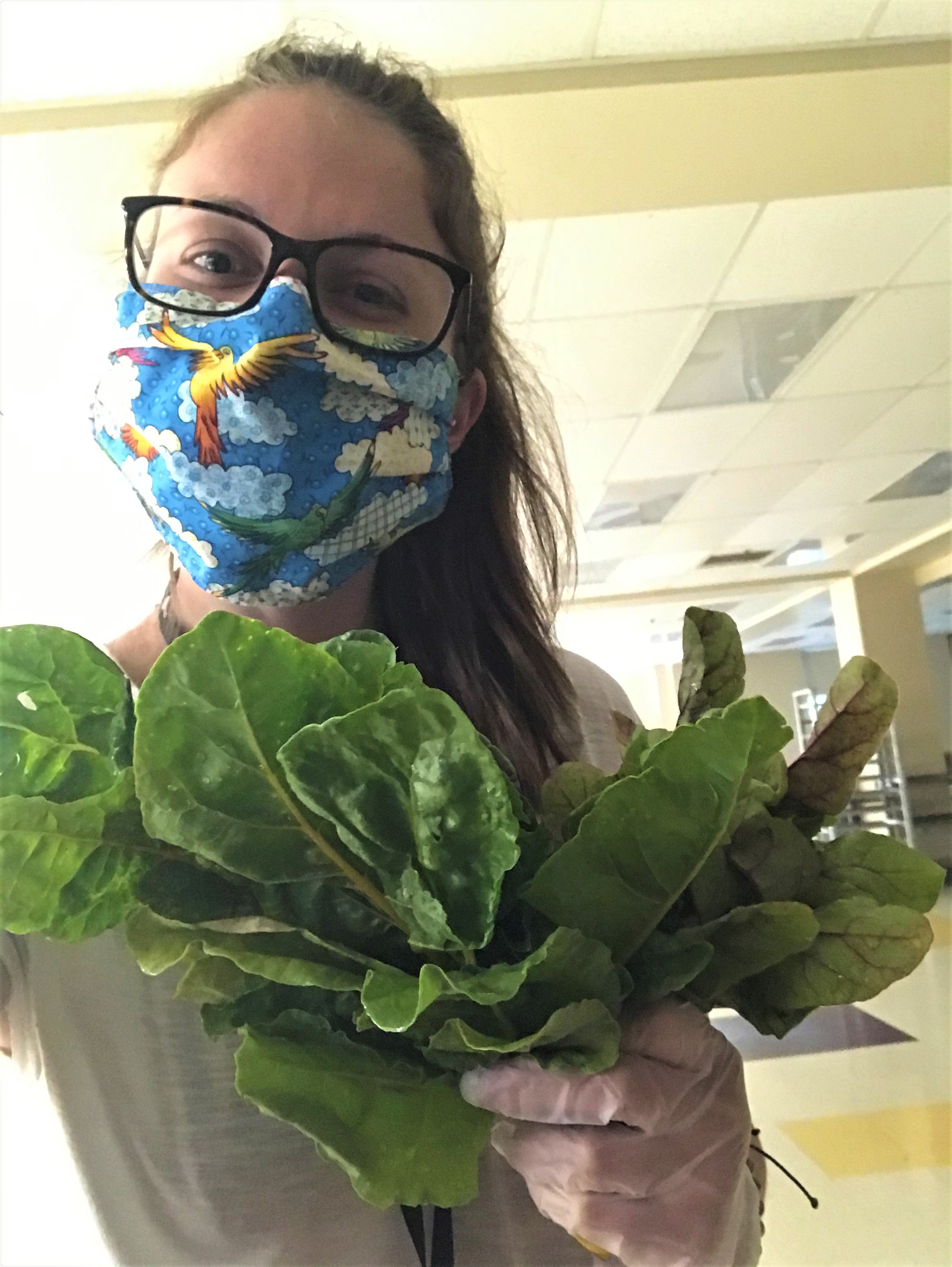 We have compiled a mini recipe book for each of the crops harvested from our Elementary School Gardens. Click the link to learn about each crop and try some of our recipes! Happy Harvesting!
Visit the Elementary School Gardens Website:
https://sites.google.com/arps.org/amherst-elementary-school-gard/home?authuser=0&fbclid=IwAR2AesvWznWM43zOW7FuqcxAR658MoK4MnzQVHVVzZTUfqpDpFELLqcuSfk
Harvest of the Month
The Harvest of the Month in August is Peaches! Peaches are sweet and juicy fruits, that taste delicious on their own, or can be added to recipes, such as a peach mango salsa on top of grilled fish or chicken, or added to smoothies, salads, or in yogurt. You can even cut peaches in half and grill them, flat side down, and even top it with balsamic and basil for a unique flavor. Peaches also make a great option for desserts and baked goods, such as peach cobbler, peach crisp, or peach scones.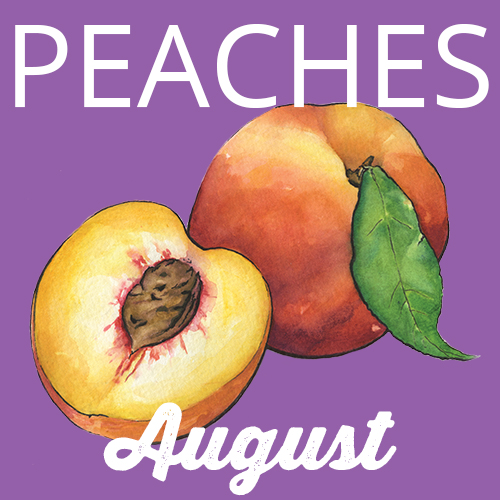 Check out Mass Farm to school page for more info.